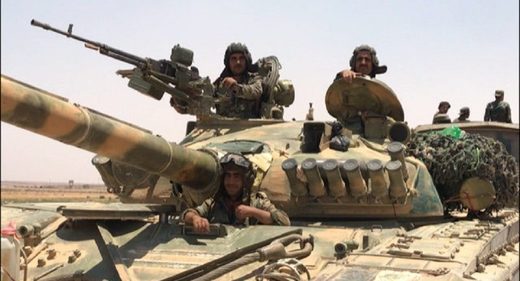 The Syrian Arab Army is getting ready to launch an offensive against terrorists in Idlib province, Omer Osi, a member of the Syrian Parliament, told Sputnik, expressing confidence that the region would eventually be liberated. The Syrian MP explained Turkey's concerns about the upcoming advance.
"Government troops are making final preparations with reinforcements and military equipment being sent from Damascus, Aleppo and Hama to the Idlib region," Omer Osi, a member of the Syrian Parliament of Kurdish origin, told Sputnik Turkey. "They are waiting orders to launch an offensive. The Syrian armed forces are determined to liberate Idlib from terrorists, and we are sure that it will certainly be taken in the near future."
Earlier, Damascus had announced a large-scale operation to free Idlib province, the last terrorist stronghold in Syria. However, the US signaled its discontent with the upcoming offensive.
"President Bashar al-Assad of Syria must not recklessly attack Idlib Province. The Russians and Iranians would be making a grave humanitarian mistake to take part in this potential human tragedy. Hundreds of thousands of people could be killed. Don't let that happen!" US President Donald Trump tweeted on September 3.
In response, Moscow underscored that Idlib remains the last hotbed of terrorism in the region, which undermines "attempts to bring the situation to the track of political and diplomatic regulation."
Meanwhile, Turkish President Recep Tayyip Erdogan echoed Washington, saying that the Idlib operation could turn into nothing short of a "massacre." Earlier, US Secretary of State Mike Pompeo and Turkish Foreign Minister Mevlut Cavusoglu had agreed during a phone conversation that a Syrian government advance on Idlib would be "unacceptable."
Comment: Turkey conveyed to Russia its condemnation of a recent attack in Syria's Idlib, Turkey's foreign minister said on Sept. 5.
"After the attack, our institutions [Turkish and Russian] contacted each other. We told them that this is wrong," Mevlüt Çavuşoğlu said at a news conference with his German counterpart Heiko Maas.
Russian Foreign Minister Sergey Lavrov may visit the German capital of Berlin on September 14, a diplomatic source told TASS on Thursday.
"The visit is planned for September 14," the source said in response to a question.
Osi explained that Russia, Turkey and Iran were continuing negotiations regarding the situation in Idlib, adding that Erdogan's concerns had certain grounds: Should the operation take place, terrorists will flee Idlib and move towards Turkey.
"As you know, Ankara opposes this operation, because in this case members of the terrorist groups, currently located in Idlib, will move towards Turkey," he elaborated. "When operations were carried out to liberate Hama, Aleppo and other Syrian territories, the terrorists retreated to Idlib. Now they have nowhere to retreat, except the territory of Turkey."
It is expected that the Idlib operation will be discussed by the leaders of Turkey, Russia and Iran during an upcoming summit in Tehran on September 7.
Idlib province is in one of Syria's de-escalation zones and remains an important foothold for jihadi fighters. Tensions are growing steadily over reports that terrorists might prepare a chemical provocation to provoke Washington into retaliating against Damascus.
On August 22, US National Security Adviser John Bolton signaled that the US would resort to tough measures against the Syrian government in case chemical weapons are used. Previously, the Trump administration had carried two missile strikes on Syrian Arab Army positions under unconfirmed reports of alleged chemical attacks.
Meanwhile, on Tuesday night, four Russian warplanes, deployed at the Hmeymim air base, conducted strikes on positions of the al-Nusra Front* terrorist group in the region. According to Russian Defense Ministry spokesman Maj. Gen. Igor Konashenkov, the Russian aircraft destroyed warehouses and workshops of terrorists.
"The Russian aircraft carried out all strikes solely on the identified terrorist targets, as confirmed through several channels, located far from settlements," Konashenkov emphasized.
Delivering a speech at the Moscow State Institute of International Relations (MGIMO) on September 3, Russian Foreign Minister Lavrov addressed the issue of the seven-year-long war in Syria, highlighting that "there is no place for terrorists in Syria and that the Syrian government has every right to seek their liquidation on its territory."
"We are now taking the most active effort, together with our Turkish colleagues, together with the Syrian government, and with the Iranians as participants in the Astana format, to split the armed normal opposition forces from the terrorists on the ground," Lavrov underscored.
*Al-Nusra Front is a terrorist group banned in Russia.
Comment: Russia will continue fighting terrorists in Syria's Idlib until their total elimination, Russian Foreign Ministry Spokeswoman Maria Zakharova stated on Wednesday.
"We consider it Russia's duty to strictly adhere to the agreements [concerning the de-escalation zone in Idlib], and it will continue the fight against terrorists until their ultimate and total elimination," she noted. "The Russian Aerospace Forces are conducting strikes on Idlib not for "aggressive" purposes, but for exterminating terrorist objects that are used in the increasing attacks on the Syrian army's positions and the civilian population, as well as in the attacks on the Russian military, whose presence in Syria is requested by the lawful government of the country."
See also: Erdogan: Working with Russia 'really important' to prevent Idlib 'massacre'