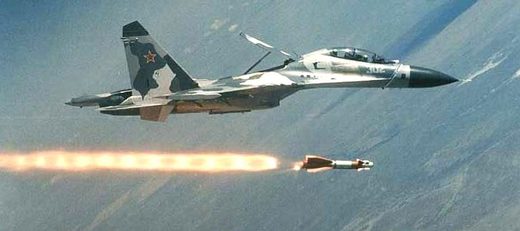 The Russian air grouping in Syria has officially joined the Syrian Army's looming East Ghouta offensive, backing up heavy raids conducted by government warplanes against militant position across the region on Monday with many of its own strikes.
Military-affiliated sources report that Russian airpower conducted heavy precision strikes across multiple rebel-held districts east of Damascus city targeting militant tactical positions, gatherings and movements.
As of the last reports two hours ago, Russian jets were still carrying-out raids over East Ghouta.
In particular, it is believed that the Russian combat aircraft have placed considerable emphasis on striking rebel fire support positions (such as anti-tank missile dug-outs and heavy machine gun nests) with precision weapons.
During the past couple of days, opposition sources have claimed that Russian warplanes raided East Ghouta, however all such reports are untrue and it is not until around midnight on Monday to Tuesday that Russian jets started to conduct strikes against militant targets throughout the region.
Comment: As usual, the U.S. is not pleased that Syria and Russia are obliterating terrorist forces in Syria, calling for an "immediate cessation" of the "regime's" "violations". In U.S.-speak, killing terrorists is a violation… of something. The U.S. will only ever be pleased if Syria gives up and subjects itself to the rule of fanatic terrorists. Thankfully, that's not going to happen. Thanks to Russia.