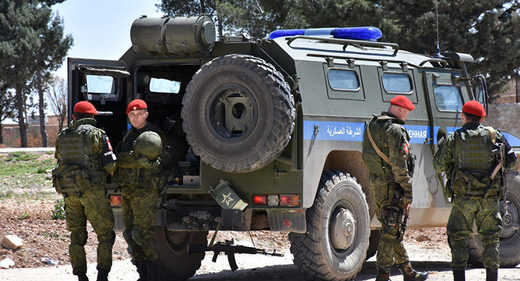 Russia may boost its military police contingent in Syria for work in de-escalation zones, Viktor Ozerov, the chairman of the defense and security committee of the Federation Council, the upper house of Russia's parliament, told Sputnik on Thursday.
Earlier Thursday, the head of the defense committee of the State Duma, the lower house of Russia's parliament, Vladimir Shamanov, confirmed to Sputnik that Russia was holding talks with Kazakhstan and Kyrgyzstan to send their servicemen to Syria and said the issue of Russian military police being tasked with monitoring the ceasefire regime in Syria was being worked out.
Comment: He said: "Negotiations are underway now, the issue is being worked out to ensure that representatives of the Russian military police take part in solving problems related to ensuring order in Syria. Questions and proposals to our colleagues from Kazakhstan and Kyrgyzstan are also being worked out. There are intentions and the beginning of the negotiation process, the decision has not yet been made."
"Representatives of our military police are already carrying out tasks in Syria to form humanitarian corridors, etc. Depending on whether new tasks are set before them, the calculation of manpower and resources will be made and, if necessary, their number will be increased," Ozerov said.
Comment: Turkish presidential spokesman Ibrahim Kalin discussed a further Russian proposal:
"There is a working group on the Syria de-escalation zones. Last week, [Alexander] Lavrentyev, the envoy of [Russian President Vladimir] Putin for Syria, was here. We had detailed negotiations with him," Kalin said as quoted by the Haberturk channel.

The group is still working on the de-escalation zones map with demarcation lines, the spokesman said.

"A mechanism is being developed within the framework of which our and Russian servicemen could maybe be in Idlib, Russian and Iranian [servicemen] near Damascus, Jordanian and US [servicemen] south of Daraa," he added.

Ibrahim Kalin also said that the Russian side had put forward a proposal to send servicemen from Kyrgyzstan and Kazakhstan to de-escalation zones in Syria.

"There was even a proposal from the Russians to send a certain number of Kyrgyz and Kazakh [servicemen]. They too can take their place in the framework of these efforts… but all this requires detailed work," Kalin said.
Update (June 23): Kazakhstan denies there have been any talks about Kazakh troops deploying to Syria. Same for Kyrgyzstan:
"Kazakhstan is not in talks with anyone on deploying its service members to Syria," Foreign Minister Kairat Abdrakhmanov said on Friday, as cited by RIA Novosti.

Abdrakhmanov, who previously served as Kazakhstan's envoy to the UN, said the issue of "ensuring security of the four de-escalation zones in Syria rests with the guarantors of the Astana process," referring to multilateral peace talks brokered by Russia, Turkey and Iran earlier in January.

"It is crucial for our country that we have a UN Security Council resolution and a respective UN mandate before discussing a possibility for our peacekeepers to be deployed to any hotspot in the world," he said.

Kazakhstan's military has seen almost no overseas deployments during the last decade. Until 2008, a small Kazakh contingent comprising paramedics and bomb disposal experts was stationed at Camp Echo in Iraq as part of the Polish-led Multinational Division Central-South.
…
Meanwhile , Kyrgyzstan's Foreign Ministry and General Staff said they had "no information" on talks over possible deployments to Syria.

"We do not have any information concerning potential participation of the Kyrgyz forces in the operations against international terrorist organizations in Syria in cooperation with Russia," a Kyrgyz Foreign Ministry spokesperson told Interfax.