ALEPPO EVACUATION ON HOLD AFTER TERRORISTS VIOLATE AGREEMENT; CAUGHT TRYING TO SMUGGLE AMERICAN CIA SPIES FROM CITY
DAMASCUS:
image: http://albaathmedia.sy/wp-content/uploads/2016/12/000327C3-696×466.jpg
Al-Maydaan District in Damascus:  If you can believe the savagery of Obama's vicious killers, you will believe this.  Yesterday, a little girl who had just reached the age of 8 years was cajoled by terrorists into carrying a small remote-controlled bomb into the police station here.  As soon as she went into the station to tell the police she was lost, the rodents triggered the device killing the girl and slightly injuring an officer inside.  GOD BURN YOU IN HELL, OBAMA!  YOU MURDERING, STINKING GANGSTER FREAK.  MAY YOUR DAUGHTERS BE ROASTED ALIVE OVER A FIRE AND FED TO YOU BEFORE YOUR DESCENT INTO HELL.
image: http://albaathmedia.sy/wp-content/uploads/2016/12/000327C7-1024×685.jpg
The remains of the little girl blurred out by Ba'ath Party sources.  She was blown to bits. 
_______________________________________________
Bashar Murtada sends this magnificent exposition of what Syrian young people think about Syria, terrorism and their president, Dr. Bashar Al-Assad:
https://www.facebook.com/Friends.Of.SAF/videos/1257997664261104/
_________________________________________
ALEPPO:
image: http://jpnews-sy.com/ar/images/news/big/113053.jpg
American terrorist allies stuck in East Aleppo tried to escape as kidnapped Syrian soldiers last evening but were identified and the evacuation was stalled.  Part of the agreement with Obama's murdering savages was that all kidnapped individuals and soldiers held by the terrorists would be released in exchange for the evacuation.  This is why the Syrian government agreed to send in buses at its own expense.  In truth, the government not only wanted the kidnapped soldiers and citizens, they also wanted the 11 Americans and 2 retired British SAS operatives who could not escape East Aleppo.  The publicity from such a capture of foreign agents would be priceless and prove that Obama and the limeys were 100% complicit in the murder of Syrian citizens.  This is the reason why the United States and its allies in Europe are ramping up the clamor over the cease fire.  They were actually hoping to extract their murderers and criminals without exposure.  That is not going to happen any time soon.  As a note, there appear to be many Turkish soldiers among the rats.  Remember, no foreigners are part of the agreement.
image: http://albaathmedia.sy/wp-content/uploads/2016/12/1-554-660×330.jpg
When the Syrian government refused to continue with the cease fire after discovering the terrorist stratagem of smuggling out American and British spies, they opened fire on the convoys of buses and ambulances standing still at the Al-Raamoosa Crossing.   This is what the Americans probably ordered to stop the flow of terrorists and their families out of the city – essentially leaving the cell of U.S. terrorists alone inside to fend for themselves.
As of today, 8,079 rodents have left the city in the span of 24 hours before the cease fire broke down.  They left in 10 tranches of vermin.  There are a few thousand still left at Al-Raamoosa after the Syrian Red Crescent and the Red Cross called off the transportation while the rodents fired at the buses and ambulances.
Other reports provide more clues as to why the evacuation was suspended.  Some sources claim the rodents were smuggling heavy weapons out in violation of the agreement in addition to prisoners.
image: https://pbs.twimg.com/media/CzulqNZWIAE1Mcw.jpg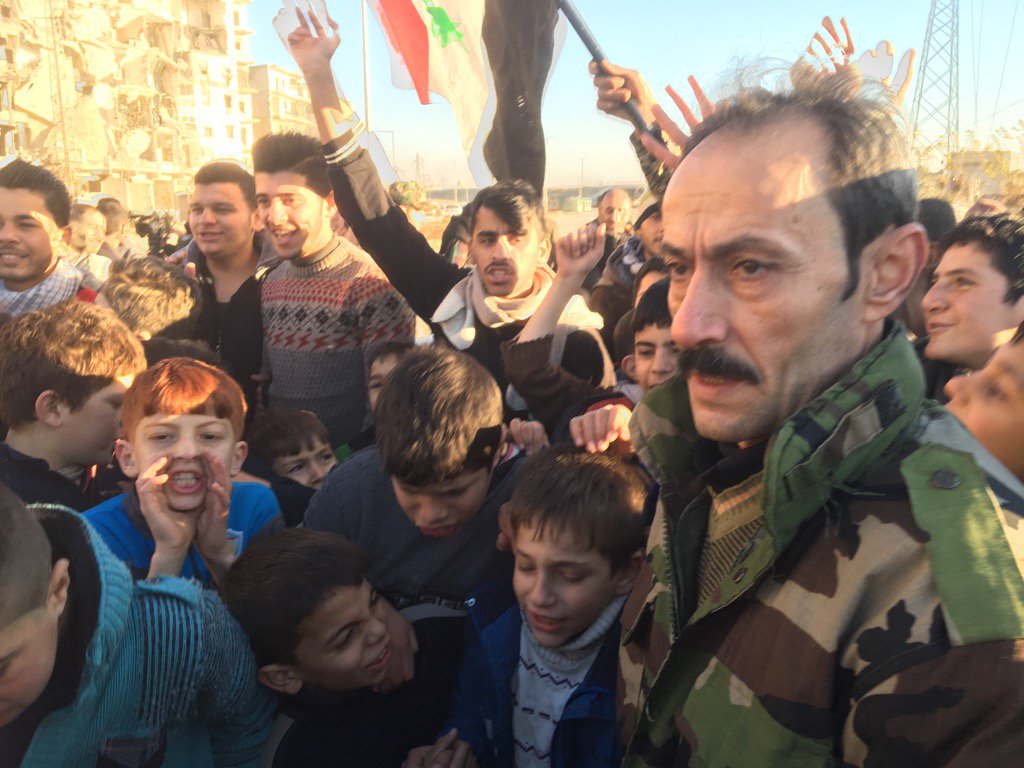 (Thanks, Jonathan Wald)
Dayr Haafir:  4 suicide trucks were destroyed 60 kms east of Aleppo City by the Syrian Army.  No other details.
____________________________________________
HOMS:
image: http://albaathmedia.sy/wp-content/uploads/2016/12/008733E4-696×463.jpg
PALMYRA:  52 rats belonging to ISIS were killed by the Syrian Army today west of the city in a massive rocket attack that also destroyed 6 suicide trucks, 3 pickups with 23mm cannons and 3 armored vehicles.  Among the dead ISIS rodents were these so-called leaders:
Maskhadov Khan (Chechen monkey spunk)
Abu Turaab Al-Makki (Saudi pig licker)
Hamdi Al-Hijaama (Saudi rectum)
image: http://sana.sy/wp-content/uploads/2016/12/sdsd-660×330.jpg
Al-Za'faraana and Al-Ghantu:  SAA rocket units pummeled Nusra/Alqaeda positions here near Talbeesa and destroyed an IED factory killing these vermin:
Mustafaa Al-Humaydi
Sameer Abu Taalib
Muhammad Wardaan
Lu`ayy 'Assaaf
Khaleel Al-Mismaari
Muhammad Ka'ka
'Ali Al-`Aaghaa
Burhaan Samhaat 
West of Al-Rastan:  Another great day for SAA artillery and rocket fire.  This time the rockets struck gold by hitting another factory for rockets and IEDs operated by Nusra/Alqaeda.  No other details.
________________________________________________
PICTURE OF THE DAY: (From Silvia)
image: https://scontent.fdtw1-1.fna.fbcdn.net/v/t1.0-9/15027941_1645585762401380_486839752287832244_n.jpg?oh=460f18065521b30d4bfb5c069a391cf1&oe=58E9F0D6
Assad must go curse strikes again. Silvia sends this one for our readers. 
_______________________________________________
KINGDOM OF COCKROACHES:
image: http://i.alalam.ir/news/Image/Inner-Media/2016/12/16/alalam_636175098244843972_25f_4x3.jpg
SAMER AL-LABAABEEDI POSTED THIS PHOTO OF HIMSELF CELEBRATING THE VICTORY OF THE SYRIAN ARMY IN ALEPPO.  HE WAS ARRESTED BY THE SAUDI BARBARIANS IN RIYAADH AND JAILED BECAUSE HE VIOLATED SAUDI LAW IN PUBLISHING SOMETHING POSITIVE ABOUT THE SYRIAN ARMY.  WHAT A JOKE.
_____________________________________________
NEWS AND COMMENT:
Ron Chandler and Patrick Henningsen present this video of how the Syrian Army should be nominated for the Nobel Peace Prize:
https://www.facebook.com/SwryaAlasdFyAlmghtrbat/videos/1052296818226570/
ANNA News made this documentary about the Al-Kindi Hospital and its defenders. (Thanks, John Esq.)
 https://www.youtube.com/watch?v=n69dKhTZJXk&feature=youtu.be
OBABA KILLS CHILD WITH BOMB IN DAMASCUS IN TERRORIST ACT BY HIS RODENTS!; SYRIAN YOUTH SPEAK OUT AGAINST TERRORISM!; ALEPPO EVACUATION ON HOLD AFTER TERRORISTS VIOLATE AGREEMENT; CAUGHT TRYING TO SMUGGLE AMERICAN CIA SPIES FROM CITY by Ziad Fadel
Read more at http://syrianperspective.com/2016/12/obaba-kills-child-with-bomb-in-damascus-in-terrorist-act-by-his-rodents-syrian-youth-speak-out-against-terrorism-aleppo-evacuation-on-hold-after-terrorists-violate-agreement-caught-trying-to-smug.html#LF8Bm3I7SmeS7Wqr.99
TO READ MORE ARTICLES FROM SYRIAN PERSPECTIVE