FRENCH WEAPONS FLOP IN ALEPPO! ; SYRIAN ARMY BEATS BACK TERRORIST ATTACK IN HOMS; RUSSIA FLIES OUT OF IRAN TO BOMB U.S. TERRORISTS; 14 AMERICAN SPEC. FORCES TRAPPED IN EASTERN ALEPPO
image: http://albaathmedia.sy/wp-content/uploads/2016/08/%D8%A7%D9%84%D8%AC%D9%8A%D8%B4-%D8%A7%D9%84%D8%B3%D9%88%D8%B1%D9%8A1.jpg
ALEPPO:  One of the new weapons deployed by the Jaysh Al-Fath terrorists is a French one which was sold to the simian Saudis who then supplied them to the cannibals in northern Syria.  This new weapon is a machine gun cannon with 2 barrels firing 3,000 rounds per minute.  The mechanism is so fast the human eye can't see the shells emitted  from the barrel.  You can only see a steady stream of fire at night.  It's range is 5 kms.  However, the cannon has its faults.  The barrels have to be replaced by a trained technician every 3 hours.  A separate support vehicle carrying ammunition and a crew has to accompany the cannon.  While it may sound menacing, it has been a total flop.  Not one single Syrian soldier has been hit by this typically over-bloated technological French sensation.
image: http://albaathmedia.sy/wp-content/uploads/2016/08/%D8%AC%D9%881.jpg
Al-Zahraa` Association District:  We are pleased to announce the departure from this world of Ahraar Al-Shaam leader and child molester, Ahmad 'Amaayaa, on August 15, 2016.
image: http://albaathmedia.sy/wp-content/uploads/2016/08/%D9%85%D8%B9%D8%B1%D9%83%D8%A9-%D8%A7%D9%84%D9%83%D9%84%D9%8A%D8%A7%D8%AA.jpg
Military Academies in South Aleppo:  The SAA is advancing substantially into the core areas of the military schools which were temporarily infested by the Wahhabist monkeys a few days after a lighting attack.  At the artillery college, the SAA has liberated more than 90% of the buildings.  At the Air Force Technical Academy, the SAA now controls over 70% of the area.  On August 17, 2016, the SAA confirmed the destruction of 2 pickups with 23mm  cannons.
East of Khanaasser:  A convoy laden with resupply for the vermin was annihilated.  A truck was destroyed along with an armored car and several pickups armed with 23mm cannons.  Other convoys struck were around the areas of Khaan Toomaan, West of Al-Mansoora and at Matram.
The most important battle was for the Cement Factory.  Why?  Very simply put, the terrorist control of this area would have enabled these cannibals to widen the corridor into the eastern part of the city to 3kms effectively neutralizing the SAA's artillery control of the narrow route which now exists and which has proven to be useless to the crawling, plague-carrying rats.  The rodents tried very hard to move into the cement factory, Al-Zahraa` Association and nearby Family House but were repelled each time by alert Syrian soldiers.  The attacks were such a flop that our army was able to conduct ground assessments naming these Syrian vermin among the 61 killed:
Muhammad 'Aatif Al-Ashqar
Fareed 'Umar Al-Dabiq
Sufyaan 'Atrees
Talaal Ahmad 'Abdul-'Aal
Ahmad Faheem Zayneddeen
'Allaa` Al-Taahir
Nibraas Shafeeq Naafoori
image: http://albaathmedia.sy/wp-content/uploads/2014/09/dar3aa.jpg
Two days ago, the SAA and its allies hurtled forward at the south flank of the 1070 Apartment Project pushing right up to the Al-Hikma School.  The Republican Guard reinforcements have just arrived from Tartous and are expected to play a more aggressive role in stanching the movement of rodents in this are.
image: http://www.sana.sy/wp-content/uploads/2016/08/tanker-660×330.jpg
Heavy fighting reported continuing in Kafr Hamraa, Khaan Al-'Asal, Ma'araataa, Khaan Toomaan, Tallat Baazu, South Daarat 'Izza and Umm Al-Qar'.  It has been reported that Russian Kaliber cruise missiles have struck their targets at Daarat 'Izza and Dayr Ta'izza with lethal preciosity as the British lobbyists in Washington D.C. do their best to coordinate with the Saudi child molesters to convince Obama to increase his support for cannibals.  The Russians report complete destruction of command facilities used by Alqaeda and a factory for manufacturing rockets for mortars.  A warehouse full of weapons and ammo was completely annihilated.  (Note:  The Admiral Kuznetsov is in its last stages of preparation to take position off the coast of Syria).
image: http://albaathmedia.sy/wp-content/uploads/2016/01/alalam-634953502438676329.jpg
(Archive photo)
Lt. General 'Ali 'Abdullah Ayyoob reviewed the troops in South Aleppo and conveyed to them the confidence and pride of the Syrian president and the people of the republic.
image: http://sana.sy/wp-content/uploads/2016/08/1-390-660×330.jpg
Reports coming to us directly from Aleppo, from relatives, indicate high morale among the population and a suspicion the rats are about to call apart.  The British are desperate to save their murderers.  They are spending millions on lobbying senators and representatives in a last ditch effort to draw the U.S. into another quagmire.  The Saudis, who have lost any good will, thanks to their blatant efforts to blackmail the U.N. into not issuing a report critical of the mass murder they are committing in Yemen have put intense pressure on the Brits to come forward and sell this fool's errand to a very suspicious American Congress.  According to Senator Richard Black, more and more Americans are becoming aware of the truth behind the war in Syria and thanks to Tulsi Gabbard, the brilliant representative from Hawaii, who knows more about international law than all the neocons in D.C., Congress will tread carefully on this one.
Note:  It has been confirmed that over 14 American Special Operations personnel are trapped in East Aleppo.  Boo hoo hoo. I can't wait to here they're there to fight ISIS. Te hee hee.
image: http://jpnews-sy.com/ar/images/news/big/107968.jpg
__________________________________________________________
The Lemniscat has revealed the true identities (or lack thereof) of the mythical doctors of Aleppo who sent a letter to the war criminal in the White House.  Get a look at this and read it with Eva's article found below in the Comments Section:
image: https://pbs.twimg.com/media/Cpp1ClSWYAAbwGv.jpg:mosaic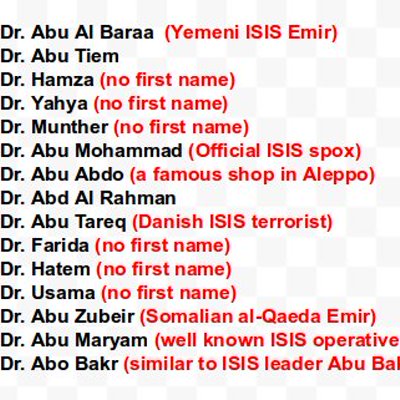 ____________________________________________
NEWS AND COMMENT:
Tony Gratrex sends this article by the indomitable Eva Bartlett exposing lies about medical doctors in Aleppo.  A must-read:
https://www.sott.net/article/325238-Western-corporate-media-disappears-over-1-5-million-Syrians-and-4000-doctors
Sara Deniz sends us this MoonofAlabama expose of more lying in the Western Press:
http://www.moonofalabama.org/2016/08/the-wounded-boy-in-orange-seat-another-staged-white-helmets-stunt.html
If you want proof of England's complicity in the suffering of the Syrian people, read this sent by Tony:
http://www.al-monitor.com/pulse/originals/2016/07/brits-saudis-lobby-for-syria-rebels.html
Likes

image: http://syrianperspective.com/wp-content/plugins/like-dislike-counter-for-posts-pages-and-comments/images/up.png
(19)Dislikesimage: http://syrianperspective.com/wp-content/plugins/like-dislike-counter-for-posts-pages-and-comments/images/down.png
(0)
FRENCH WEAPONS FLOP IN ALEPPO! U.S. GOVERNMENT CAUGHT LYING ABOUT ALEPPO, AGAIN!; SYRIAN ARMY BEATS BACK TERRORIST ATTACK IN HOMS; RUSSIA FLIES OUT OF IRAN TO BOMB U.S. TERRORISTS; 14 AMERICAN SPEC. FORCES TRAPPED IN EASTERN ALEPPO by Ziad Fadel
Read more at http://syrianperspective.com/2016/08/french-weapons-flop-in-aleppo-u-s-government-caught-lying-about-aleppo-again-syrian-army-beats-back-terrorist-attack-in-homs-russia-flies-out-of-iran-to-bomb-u-s-terrorists-14-american-spec-f.html#tuRmbdeCks4magDM.99
TO READ MORE ARTICLES FROM SYRIAN PERSPECTIVE