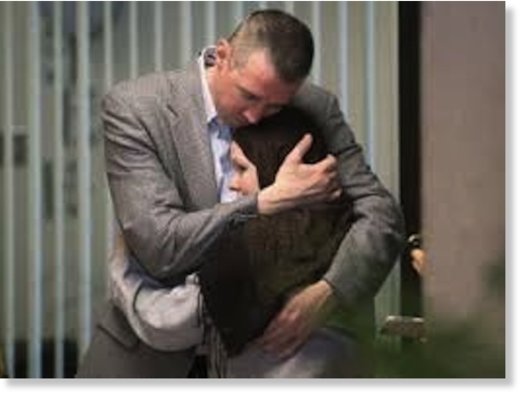 Former Surrey residents John Nuttall and Amanda Korody embraced in the lobby of B.C. Supreme Court on Friday, passionately kissing, free after 37 months imprisonment, their terrorism convictions overturned.
"We're just happy," Nuttall said to reporters before leaving in a cab.
But within hours, after "a nice lunch on The Drive," four Vancouver police cruisers screeched to a halt and the couple was taken away in handcuffs.
Late in the afternoon, they went before B.C. provincial court Judge Reg Harris and agreed to peace bond terms that included geographic restrictions banning them from the legislature grounds, Canadian Forces Bases, synagogues and Jewish schools.
They were then released again.
Their lawyers told the court that the couple will initially be living in Victoria.
Under the peace bond, they are prohibited from using the Internet to call up fundamentalist Islamic websites and from possessing weapons or explosives, including knives except when preparing food. They must also report to a bail supervisor.
Korody appeared in provincial court without her customary head scarf and her red hair was fashioned in neat corn rows.
Federal prosecutor Raymond Leong refused to comment on the peace bond proceedings.
"It was horrible, it was so scary — you should have seen the looks on their faces," said Nuttall's mother Maureen Smith who was present during the takedown on Commercial Drive. "I thought John was going to die right there. The cops need to be charged with harassment and causing trauma."
His lawyer Marilyn Sandford was taken aback by the events and said it appeared the Crown was repeating the claims found "farcical" in B.C. Supreme Court.
The conduct by police and prosecutors seemed outrageous in the face of the ruling by B.C. Supreme Court Justice Catherine Bruce that the pair was no threat to public safety.
The reasons and need for the peace bond will not be argued until much later and Judge Harris, a former VPD officer, said he had concerns from the moment authorities made the application Friday morning.
Found guilty by a jury last year for planting inert pressure cooker bombs on the B.C. legislature grounds in 2013 with assistance by undercover RCMP, the couple was released after Bruce declared them victims of police entrapment on Friday morning.
"The world has enough terrorists, we do not need the police to create more," Bruce said.
"This was not a situation in which the police were attempting to disrupt an ongoing criminal enterprise; rather, the offences committed by the defendants were brought about by the police and would not have occurred without their involvement. By any measure, this was a clear case of police-manufactured crime."
The vulnerable couple was benign, she added.
"There was no imminent risk of harm to the public or the need to disrupt ongoing criminal activity," Bruce said. "The police were acutely aware that without the constant supervision and direction provided by (the undercover officer), the defendants would be incapable of completing their part in the plan.
"Moreover, the fact that the police went to such great lengths to eliminate the many obstacles the defendants placed in their own path to accomplishing a terrorist mission, as well as obstacles the police concluded the defendants could never overcome because of their vulnerabilities and their lack of resources, renders any risk perceived by the RCMP quite farcical."
She called Nuttall and Korody "not very intelligent; gullible and quite naive and childlike. To say they were unsophisticated is generous."
Comment: Where have we heard that before?
In the scathing rebuke, the justice savaged the RCMP for violating the Criminal Code and conducting a sophisticated undercover operation that was an abuse of process and tarnished the administration of justice.
Bruce concluded the couple were manipulated into planting the devices intended to explode during 2013 Canada Day celebrations with the hope of slaughtering as many celebrants and first responders as possible.
She denounced the five-month sting — dubbed Operation Souvenir, involving more than 240 officers, who billed $900,000 in overtime alone.
It threatened "fundamental beliefs our society holds about human dignity and fairness," Bruce said.
Crown prosecutors looked staggered.
"Mr. Nuttall will always be a risk as far as I'm concerned given his background, his history and his reaction to stresses which based on his life history is to use violence," insisted prosecutor Peter Eccles. "That doesn't mean he is necessarily a terrorist threat but he has a proven propensity to use violence. He is a radicalized individual."
Noting it was the first finding of entrapment in a terrorism case to his knowledge, the veteran prosecutor said that the 97,000-word judgment would take time to analyze but he disagreed with the justice's interpretation of the law.
It may pose concerns for national security and hamper the fight against terrorism, he said.
Comment: What a load of BS! But you never know how many folks may be listening in to this garbage, and the people must be reminded of "Why they need us!" (the national security state apparatus).
Nuttall, 41, and the 33-year-old Korody were overjoyed.
"I'm just ecstatic," Nuttall's mother Smith told reporters after the ruling.
Defence lawyers were equally pleased.
"It was stinging indictment of a very misguided and ill-considered police operation and Justice Bruce has nailed it in my view," said Vancouver lawyer Marilyn Sandford.
Bruce read a 45-minute summary of her decision, in which she referred to the undercover officer as "the leader" and Nuttall and Korody as his "foot soldiers."
She said "the role the police played in the mission is even more offensive because they violated the Criminal Code in order to accomplish their objectives and almost all of their actions were unsanctioned."
The police sting was triggered by warnings from the Canadian Security Intelligence Service.
Nuttall's mother said both would require counselling and care to return to normal given the past three years of prosecution and pre-trial custody.
Comment: This is huge news. B.C. Supreme Court Justice Catherine Bruce is saying the same thing we at SOTT have been saying for years. How many of these stories have we been seeing in the U.S. since the bogus 'war on terror' began!? Too many to count! Canada's "CIA" – CSIS – got in on the act of entrapping gullible and mentally challenged individuals – thanks to the instruction manuals and direction of their psychopathic buddies to the south, no doubt. But this case sets a precedent that will hopefully make them think twice about doing it again (it's a long shot, but it's more than the U.S. has).
Like the CIA, NATO and many other "security" agencies that exist, CSIS needs to manufacture acts of terror in order to justify its existence and payroll. These are the real terrorist nut jobs; demanding a salary for being able to act out their U.S. and Israeli-inspired pathological tendencies. Now if only something similar were to happen in the States.
Just a sampling of the hundreds of stories we have covered here highlighting the problem:
____________________________________________________________________
TO READ MORE ARTICLES FROM SIGNS OF THE TIMES ( SOTT )
CLICK ON THIS LINK    =   https://www.sott.net/
_____________________________________________________________________