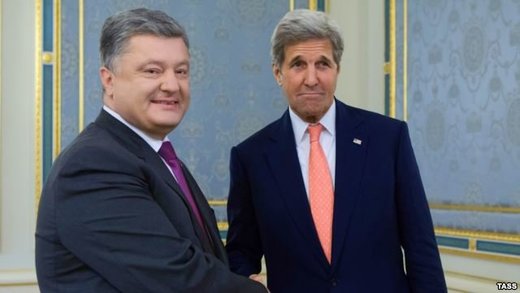 U.S. Secretary of State John Kerry has reassured Ukraine that sanctions against Russia will remain in place unless Moscow fulfills its obligations under the Minsk agreement reached last year, and announced additional humanitarian aid for Kyiv.
Kerry spoke at a joint news conference in Kyiv with Petro Poroshenko on July 7, a day before NATO leaders meet in Warsaw for a crucial summit to which the Ukrainian president has also been invited.
Kerry and Poroshenko discussed progress toward implantation of the Minsk deal, which is aimed to end the conflict between government forces and Russia-backed separatists that has killed more than 9,300 people in eastern Ukraine since April 2014. It began shortly after Russia seized the Crimean Peninsula from Ukraine.
Poroshenko stressed Ukraine's demands for security.
"There cannot be effective progress without comprehensive and sustainable security," he said. "We insist on decisive implementation."
U.S. officials say Ukraine has completed most of its obligations under the Minsk agreement that relate to providing the east — where the separatists hold parts of the Donetsk and Luhansk regions, also known as the Donbas — with greater autonomy.
Comment: Which is a complete and utter lie. Kiev has not fulfilled ANY of their obligations! Have these idiots even read the document they signed?! Or are they just fully confident in the abject ignorance and lack of interest on the part of their citizens? Probably the latter.
But the officials say Moscow and the separatists have not done their part on key security issues such as ensuring a cease-fire, withdrawing heavy weapons, providing full access to Organization for Security and Cooperation in Europe (OSCE) monitors, and restoring Ukrainian control to border crossings.
Comment: Nonsense. First of all, Moscow isn't even a party to the Minsk agreements. Second, read the document for yourself. 1) All parties pulled back the majority of heavy weapons. Kiev has been the one sending them back to the front. 2) It is the Ukrainians who repeatedly violate the ceasefire by shelling civilian infrastructure. 2) All other measures applying to Donetsk and Lugansk are predicated on Kiev upholding its end of the bargain. It refuses to do so.
"Ukraine is making a good-faith effort to implement Minsk," Kerry said, adding that the same message was relayed by President Barack Obama to Russian President Vladimir Putin during their phone call on July 6.
Comment: Bullshit. And Kerry knows it.
"President Putin indicated that he does have a desire to see this process move forward, as does President [Barack] Obama," Kerry said, adding that the international community would welcome proof of Russia's choosing "the path to de-escalation and full implementation of Minsk."
"If Russia does not move in the direction of embracing that possibility and de-escalating, then the sanctions will remain in place. The same is true with respect to Crimea," Kerry warned.
Comment: Translation: "As long as Ukraine continues not to implement Minsk obligations, we will continue the anti-Russian sanctions." These idiots can't even come up with a logical justification for their sanctions, which exposes the fact that the situation in Ukraine has nothing to do with them.
"Without real security in the Donbas, an end to the bloodshed on the Contact Line [between Ukrainian and separatist forces], the use of heavy weapons, the blockading the OSCE access, without that, Minsk is doomed to fail."
Comment: Will someone smack some sense into this man? The end to the bloodshed is easy: Kiev simply has to stop killing people. The Donetsk and Lugansk militias have no interest in extending their territory at this point.
While there is little prospect of Ukraine joining NATO in the near future, Poroshenko indicated the alliance must keep its doors open despite Russian opposition.
He said Ukraine expected the Warsaw summit to uphold "the positions adopted at the NATO summit in Bucharest [in 2008] — the key of which is that NATO's doors are open to any European country."
Kerry said that during the summit, which starts on July 8, the NATO-Ukraine commission will hold a special meeting at level of heads of state.
Kerry lauded Ukraine's efforts at judicial, legislative, and economic reforms, as well as a new anticorruption program.
Comment: LOL!
He also announced that the United States will provide nearly $23 million in additional humanitarian aid to help people affected by the crisis in eastern Ukraine.
The funding will bring the total amount of U.S. humanitarian assistance to Ukraine to more than $135 million since the crisis began, the State Department said in a statement on July 7. Citing recent United Nations estimates, it said there are more than 3.1 million vulnerable people in Ukraine.
On July 5, Kerry visited Georgia, where he signed an agreement to boost U.S. military cooperation. Georgia's NATO aspirations were a chief catalyst for the five-day war in 2008 in which Russian forces drove deep into the South Caucasus country.
Comment: RFE/RL is a propaganda network, plain and simple. The chief catalyst for the 2008 war was Georgia's invasion of South Ossetia, and murder of Russian peacekeepers there.
Meanwhile, German Chancellor Angela Merkel defended NATO's plans to bolster its presence in Central and Eastern Europe amid tensions with Russia over Ukraine, saying the Kremlin was to blame for the West's loss of trust in Moscow.
Merkel told the German parliament on July 7 she was ready to offer Moscow her "outstretched hand for dialogue" on July 7, saying that Germany wants a constructive relationship between Russia and NATO.
But she warned that dialogue has to be backed by firmness.
"This means deterrence and dialogue, the clear commitment to solidarity with our partners in the alliance…and an outstretched hand for dialogue," Merkel said.
She told lawmakers it was not enough to be able to quickly relocate troops in emergencies.
"The alliance needs to have a stronger presence in the Baltics and in Poland," Merkel said.
NATO is expected to agree in Warsaw to the deployment of battalions of up to 1,000 troops in Poland and in each of the three Baltic states — Estonia, Lithuania, and Latvia.
Warsaw and the Baltic states have raised concerns with NATO about Russian aggression in the region following its seizure of Crimea and involvement in the war in eastern Ukraine, where Kyiv and NATO say it has sent thousands of troops and substantial weaponry to support the separatists.
Merkel told lawmakers that Germany will make "a substantial contribution" to NATO's deployment plans in Eastern Europe.
_____________________________________________________________________________
TO READ MORE ARTICLES FROM SIGNS OF THE TIMES   ( SOTT )
_____________________________________________________________________________