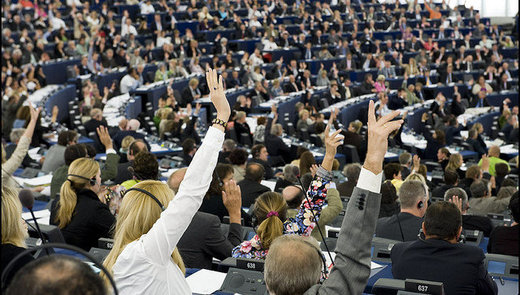 The Great Glyphosate Rebellion continues at full pace in Europe as a new European Commission proposal for a temporary license extension of 18 months failed to receive support from the European Union members states.
The European Commission may now submit its temporary extension proposal to an appeal committee of political representatives of the 28 EU member states within one month.
A spokeswoman for the German Environment Ministry stated Monday; "There was no majority for glyphosate in the consultations today".
The Commission's plan had ignored scientific evidence that glyphosate is a probable cause of cancer and fails to limit human exposure to the herbicide, said Greenpeace.
In April, the European Parliament called for a ban on all private uses of glyphosate, as well as spraying around public parks and playgrounds. It also opposed glyphosate spraying just ahead of harvesting, and called for the immediate disclosure of all scientific evidence used by the European Food Safety Authority to back up its claim that glyphosate is unlikely to cause harm.
The Commission had twice failed earlier in 2016 to garner enough support from EU governments for a long-term re-approval of glyphosate, before suggesting the temporary re-approval
Comment: There is a growing Glyphosate 'revolution':
Public pressure against glyphosate in countries across Europe has been intense, with nearly 1.5 million people petitioning the EU's health commissioner, Vytenis Andriukaitis, for a ban on the substance, the Guardian reported.

After a Dutch parliament vote opposing the renewal of glyphosate's permit, the Netherlands called for a postponement of the EU-wide decision. "If there is no possibility to postpone the vote, then we will vote against the proposal," said Marcel van Beusekom, a spokesman for the Netherlands agriculture ministry.

The move by Sweden and the Netherlands follows the announcement on Friday by French Minister of Ecology Ségolène Royal that France will vote against the EU re-licensing of glyphosate.

Royal also added that France was not backing the European Food Safety Authority (EFSA) on their recent safety assessment of glyphosate and was instead basing their decision on the report of the World Health Organization's International Agency for Research on Cancer (IARC) in 2015, which declared glyphosate to be a probable human carcinogen.
___________________________________________________________
TO READ MORE ARTICLES FROM SIGNS OF THE TIMES ( SOTT )
CLICK ON    =   https://www.sott.net/
_____________________________________________________________